ITALY – Hitachi's adventures in Malaysia with Sinergie
A journey to southeast Asia to discover a land where modernity and antiquity intermix to create panoramas that are every bit as fascinating as they are contrasting. This is the experience created by Sinergie for the top clients of Hitachi Air Conditioning Europe.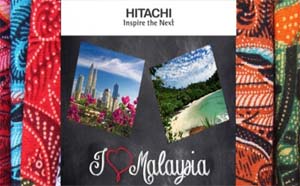 Malaysia provided boundless opportunities to experience the many facets of its dual nature. Kuala Lumpur was a vibrant example of the modern country. A visit to the Petronas Twin Towers provided guests with a vantage point over the city that will forever be etched in their minds, where skyscrapers and bustle testify to the vivacity of the metropolis and its inhabitants. The Istana Negara (National Palace) and the National Monument commemorating those who died in Malaysia's struggle for freedom provided additional testimony to the grandeur of this inter-ethnic culture with very old and very deep roots.
The guests had a chance to get to know their colleagues from the Kuala Lumpur offices, becoming honoured guests at a meeting and tour of the company that reinforced mutual respect, uniting two worlds that are so different yet have so much in common.
From the metropolis to the wilderness, the journey continued on to Pangkor Laut, one of the most enchanting Malaysian isles and location of the revitalizing Pangkor Laut Resort, a jewel set in a relaxing oasis of peace ruled by mother nature.
The variety of experiences were all held together by convivial gatherings and were further embellished by an excursion to Coral Island, a small corner of paradise where a few hours of snorkelling gave the lucky guests an opportunity to explore the wonders hidden within the turquoise blue Malaysian waters.
An enthralling experience for the clients of Hitachi Air Conditioning Europe, who will bring home memories and panoramas that will be hard to forget – thanks to Sinergie.
(www.sinergie.org)