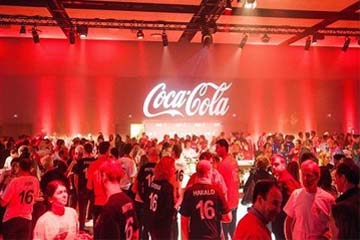 SPAIN – Coca-Cola invites 600 professionals to PortAventura
Coca-Cola wanted to hold a strategy meeting after the creation of a new structure grouping the company with its European bottlers, including Iberian Partners. The aim was to encourage the acceleration and growth of the business. Result: a great event in PortAventura.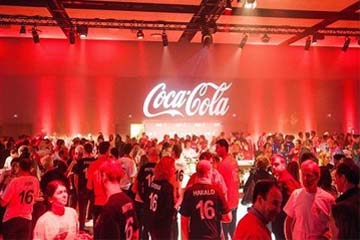 The program of the meeting included a plenary session for 650 people, subcommittees, an exhibition area and workshops, plus two dinners: a casual dinner at the convention center and a gala dinner at the Restaurant La Cantina PortAventura Park, which recreated the atmosphere of a bullring.
Following the trend of combining expo and training in the same space to maximize energy, the same area was used for exhibition and workshops. A large open room with no partition hosted different activities, in which the speaker was using a microphone and participants listened with headphones, so that groups should not bother each other.
In terms of activities, the event featured table football (celebrating happiness!). A football match was also held in the plenary room itself, to remind of the brand´s support for sports. The game was played between Nastic de Tarragona, a Spanish 2nd division team, and the International soccer team of Coca-Cola. The plenary room had a red carpet, but was converted into a mini-stadium with green carpeting.
Guests could also enjoy rides in the PortAventura Park, open exclusively for them (the park was closed to visitors at this time of the year).
The event included a lot of visual branding, turning every corner of the convention center into a very "Coca-Cola" area. The outdoor furniture was made of wooden pallets, and lamps made from bottles of Coca-Cola glass were installed. Cardboard stools completed this very natural and relaxed setup. Gobos were used with the logo, there was a lot of red light, and the event included many images with Coca-Cola style photos, many stickers on the windows of the center. And of course, drinks dispensers of various kinds were setup.
Finally, the event also included a sustainable corner featuring a series of products made by hand with recycled Coca-Cola cans (figures, bags, etc.), for a project that helps women in more than 200 countries worldwide.
(eventoplus.com)