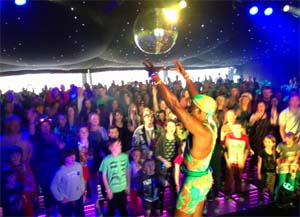 IRELAND – Verve Scores Big at APMC Star Awards
The team at Verve (image) triumphed at the APMC Star Awards when their Guinness Area
22 campaign scooped the Grand Prix. This win crowned a great night for the Leeson Street
agency who won a total of 6 golds on the night. The APMC Star Awards are premier league for
the promotional marketing industry in Ireland and a total of 65 awards were presented at the
Radisson Blu Royal Hotel on Golden Lane. The Awards ceremony was hosted by comedian and
actor Risteárd Cooper.



"We are delighted as an agency, for our client Diageo and for the
other agencies who have worked so hard on Guinness Area 22. It is an honourable achievement
to be awarded the Judges Grand Prix Award. All the sweeter as it was a unanimous decision by
the judges and it feels fitting that we won the Grand Prix Award in our 21 st year.
The Guinness brand team, agencies including WHPR, Cybercom and IIP, all worked hard on
this campaign and should share in the success of the award. It's great to see good inter-agency
work, which delivers real brand results and sales volume, showcased on a national stage.
As a Live Agency, winning the Experiential Categories and the Golds on the night is rewarding
for the team in Verve and for our longstanding valued client Coca-cola. Awards like these
come when you collaborate with talented, savvy, Irish based brand teams, like those present in
Baggot street and James's Gate", said Verve MD Ronan Traynor.
Speaking at the Awards, APMC Chair Edel McCabe said "This year more than any other really
has seen some stand out thinking, and creative delivery of that thinking. This year the judges
felt that in many cases, the work submitted could proudly and easily represent our industry in
Europe. Irish agencies did particularly well at the European Promotional Marketing Awards last
year with 12 awards being won. We are hopeful that we can better this result this year".
Now in their 20th year, over 160 people attended the awards ceremony. More than 160
submissions were submitted by 17 agencies and along with Philip Slade the judging panel also
included Joan Tallon from Bossanova in Dublin, Paul Godwin, from PCG Consultants in London
and Teresa Murray from DCU.