GERMANY – Many new exhibitors and outstanding programme at BOE 2014
The Best Of Events International 2014 continues to be on a road to success: 4 months
before the start of the trade fair, the level of rented booth spaces is higher than in the previous year.
Around 25% of the exhibitors will be represented for the first time at the trade fair for the event
industry, which will be taking place from January 22-23 at Messe Westfalenhallen Dortmund.

Newcomers at the Best Of Events International 2014 are Script and Tell GmbH, M24
GmbH, VKF Renzel GmbH, A.B.C. Worldwide für Möbeleinrichtungen und mehr GmbH, Thone &
Partner GmbH & Co. KG, Ann Red GbR, DELight – LED GmbH, Screen Rent, Simon Media
Film & Medien Produktion, Expand International Deutschland GmbH and many other new
exhibitors from all categories of BOE. First-time participants at BOE from abroad are for example Flex-
Tent (Netherlands), Concept Furniture International and Floor Stak – The Regent Engineering Co. Ltd
(Great Britain) or Yes Man Marketing (South Africa).
Bea Nöhre, Best Of Events GmbH, said: "New exhibitors at the BOE 2014 of course stand for the
presentation of new ideas, concepts and solutions. Visitors expect the BOE in 2014 to have a
very attractive product portfolio, established and new exhibitors, innovations and an outstanding
programme. With all these features, the BOE will once again prove its important role as the trade fair
platform of the event industry."
The BOE-Forum in 2014 will include the topics Brand Management, Innovations and Media &
Technologies. Thus, the event director and show producer Chris Cuhls, who supports event agencies
and companies in the implementation of live communication concepts, will be identifying the success
factors for successful events. Lukas Rössler, Fosbury e.U. will be dealing with the question of how
new events and brand staging options can be established through the use of New Media technologies.
Another highlight in the BOE-Forum 2014 certainly is the talk of Cristián Gálvez who will take
up the topic of innovation and reflect on the "Psychology of Change Drivers". Michael Öhlhorn,
Vabeg Eventsafety Deutschland GmbH will present the current state of lightning protection for
outdoor events and marquees. In the BOE-Forum 2014 a number of other well-known speakers will
be presenting key trends, technologies and innovations in tangible formats and visionary lectures.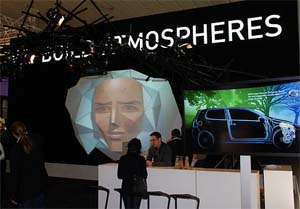 BEEFTEA Group will be presenting the new event format "Meet The Beef – Trend Talk" in the
context of the BOE. Themed "Creating Digital Ideas", renowned speakers will be discussing the
opportunities and successes provided by digital communication and pick up on pressing issues such
as: Which techniques are now pointing the way and what are the trends of tomorrow? An answer to
these questions will be given by Thomas de Buhr of Google with his lecture "Brand Communication
in the Digital World". Christoph Keese of Axel Springer AG has recently returned from a six-month
research stay at the international trend hotbed Silicon Valley. He knows that "The future of digital
communication already is in full swing." Other speakers will show with concrete practical examples
what is already possible today, which potentials especially lie in the event area and which legal
regulations must be observed.
Young professionals looking for information on careers, training opportunities as well as career
prospects will find that Career Day: Live Communikation on January 23, 2014 is the perfect place.
Like a career guide, that day will be designed by the initiators Studieninstitut für Kommunikation
(Institute of Studies for Communication), expopartner, the associations FAMAB e.V. and ISES Europe
and the personnel consulting kg-u. Experts will outline which jobs are available in live communication,
which training and further education pathways are sensible and how a career can be planned with
further qualifications. Important application tips and especially the offer of individual interviews with
numerous pointers on how an applicant should proceed will be completing the Career Day.