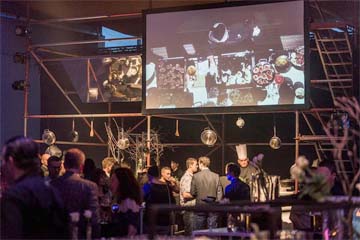 BELGIUM – Reynaers Aluminium Annual Party with Jada Events
For the organization of its annual staff party, the company chose the Belgian agency, which took inspiration from Reynaers Aluminium's  latest product in order to create an unforgettable event.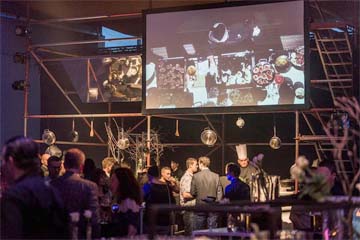 Masterline 8, the aluminium window system of the future by Reynaers Aluminium, was at the centre of the annual staff party of the company.
Jada Events developed the original concept using the product to decorate the location: in the hall, there were various Masterline 8 sample profiles on display. The clean and at the same time eye-catching lines of the design were represented by every single element, from the stage, to the buffet area, the screens and the mirrors.
After the opening speech and an exciting laser show, guests had the chance to enjoy the buffet and see how their plates were prepared through the built-in screens and mirrors. Later in the evening, it was time for dancing with the coverband The Amazing Flowers and the dynamic DJ duo Family Affair.