AUSTRIA – Vienna number one worldwide in congresses, the city honors organizers
Vienna almost seems to have taken out a permanent lease on first place as a destination for international congresses. According to the ICCA statistics, the Austrian capital staged 181 such events in 2011, putting it at the top of the worldwide league for the seventh time in succession. It was followed by Paris with 174 international congresses and Barcelona with 150. The other cities in the top ten were Berlin (147), Singapore (142), Madrid (130), London (115), Amsterdam (114), Istanbul (113) and Beijing (111). Austria was in 10th place in the countries ranking, headed – also almost by tradition – by the USA (759). Not fewer than 68% of Austria's 267 international congresses took place in Vienna. The best placed countries after the USA were Germany (577) and Spain (463).
Congress organizers who brought international congresses to Vienna last year were invited to City Hall on Wednesday, May 9 for an official ceremony at which Vienna Tourist Board President Vice-Mayor Renate Brauner, Austrian Federal Economic Chamber President Brigitte Jank, Director of Tourism Norbert Kettner and Christian Mutschlechner, Director of the Vienna Tourist Board's Vienna Convention Bureau, thanked them for their contributions. They were all awarded honorary certificates, one of which Renate Brauner presented symbolically to Siegfried Kasper, Professor of Psychiatry and Chairman of the Department of General Psychiatry at the Medical University of Vienna. He was chiefly responsible for the fact that the 19th European Congress of Psychiatry with 4,050 delegates was held at the Austria Center Vienna (ACV) in March 2011 and has already booked the same venue again for 2015. Professor Kasper also played a key role in a number of congresses in Vienna, and this year the city has to thank him for the European College of Neuropsychopharmacology, which will be held at the ACV from October 13-17 with 8,000 specialists in this field. This event was first held in Vienna in 2007.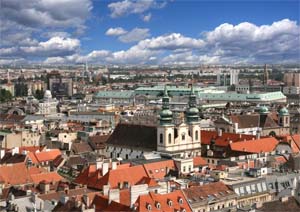 Christian Mutschlechner provided one of the highlights of this festive evening: he had just received news of the ICCA statistics and was able to announce Vienna's top ranking once again to precisely the people who had made this possible. The maxim 'give credit where credit is due' could not have been more apt.
(www.vienna.convention.at)