AUSTRIA – Vienna Lands 2018 International Astronomy Conference
The prestigious general assembly of the International Astronomical Union (IAU) is held every three years together with the world's largest international astrophysics conference. In August 2018, this event will see over 3,000 of the world's leading scientists in the field of astronomy and astrophysics convening in Vienna. Altogether this event consisting of numerous symposiums and workshops over several days will last more than two weeks.
The decision to hold the assembly in Vienna was taken at this year's general assembly in Beijing. The event was also attended by Gerhard Hensler (image), Austria's national representative, professor of theoretical astronomy and dean of the University of Vienna's Faculty of Earth Sciences, Geography and Astronomy and vice president of OeGAA, the Austrian Society for Astronomy and Astrophysics. He had prepared the application in collaboration the Vienna Tourist Board's Vienna Convention Bureau, and presented the official application book together with a PowerPoint presentation on Vienna. These made a deep impression on the executive committee of the IAU and convinced the national representatives that Vienna was clearly preferable to other destinations.
With the choice of Vienna as a venue, in 2018 Europe will once again be in the limelight of international astronomy after assemblies in Sydney (2003), Prague (2006), Rio de Janeiro (2009), Beijing (2012) and Hawaii (2015).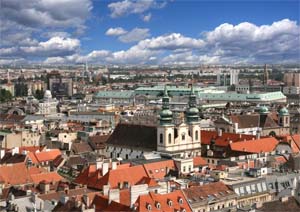 Local organization will be carried out by OeGAA – which made the application – together with the Austrian Academy of Sciences as the Austrian association belonging to the IAU, whilst organizational support will be provided by the University of Vienna.
According to Christian Mutschlechner, Director of the Vienna Convention Bureau, this congress will mean about 30,000 bednights for Vienna and contribute some 12 million Euros to GDP. However, hosting the IAU's general assembly in 2018 is not just an achievement for the congress city Vienna, but also for Austrian astronomy, which celebrates the 10th anniversary of its membership of ESO, the European Southern Observatory the same year.
(www.vienna.convention.at)